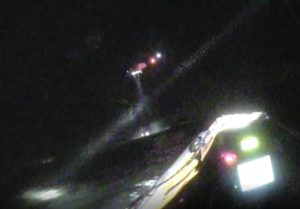 Porthcawl RNLI volunteer crew were paged by UK Coastguard at 17:38 Friday 30th December following reports of a small boat with two persons aboard having run aground on rocks at Sker Point. Both lifeboats were launched and arrived on scene, 2 miles north west of the station at 17:50.
Conditions were such that there was no natural light and a white parachute flare was fired by the lifeboat crew to assist in the search. Crew located the outline of a small boat on the rocks with waves washing over it, causing it to roll over on its side. With the Atlantic 85, Rose of the Shires, brought as close as was safe to the casualty vessel crew members Chris Page and Dan Jones left the lifeboat and managed to scramble through the water to locate and confirm that there were two casualties aboard.
With the assistance of the Search and Rescue helicopter which had just arrived on scene minutes earlier both casualties were winched off the vessel due to the unsafe sea conditions and rocky terrain. Lifeboat crew who had given brief first aid checks confirmed that both casualties were exhausted and cold. The helicopter was landed at Sker Point whilst further medical attention was administered by the air crew.
Following confirmation that there were no further casualties Mumbles Lifeboat which had also been launched to assist was stood down and returned to station. Meantime Porthcawl lifeboats remained on scene until the helicopter flew one casualty to Morrison Hospital.
With surf conditions on the beach poor and complete darkness it was decided that it would be safer for the two Porthcawl crew who had gone ashore to be transported back to the lifeboat station by Porthcawl Coastguard unit.
Lifeboat Operations Manager Phil Missen MBE, said, 'Both casualties were extremely lucky to have been rescued in the complete darkness and from the notoriously dangerous Sker Point. I dread to think how difficult a search would have been had the casualties not been able to stay with their stricken vessel. Tonight's rescue was a multi-agency effort where all teams worked together under the UK Coastguard Agency, fortunately with a positive outcome.