There were dramatic scenes at Porthcawl Marina on Saturday evening when hundreds of children, parents and grandparents gathered to see Santa do a practice fly over of the town in readiness for Christmas day. Unfortunately he fell from his sleigh just as his reindeer turned sharply when passing the lighthouse. 
Singer, eleven year old, Taya Beechey entertained the gathering crowd whilst they waited patiently to see Santa. Meanwhile Porthcawl lifeboat volunteers were alerted to reports of Santa's accident. Within minutes the Atlantic 85, 'Rose of the Shires' was launched in darkness to search for Santa. Porthcawl Coastguard Unit arrived on scene to assist in the search around the harbour area. Fortunately Santa was found clinging to the 'green marker pole' at the entrance to the harbour area and was quickly brought aboard the lifeboat. Unhurt following his accident, he showed his magical talents by taking the helm and steering the lifeboat into the marina where the crew helped him onto one of the pontoons. He then stood admiring all the boats that had Christmas lights, each one helping to guide him around when he comes back to Porthcawl with his sleigh loaded with presents. From the marina he walked to the lifeboat station where Mother Christmas was waiting to see him. They both then welcomed the children who had waited to see Santa and his reindeer fly over Porthcawl.
During Santa's short stay all visitors were entertained at the lifeboat station with Christmas songs by Russell Jones of X Factor fame.
Santa later said, 'I was so grateful to everyone who helped to rescue me so quickly, I have such a busy week ahead making sure all my helpers wrap all the presents and load the sleigh ready for Christmas. I was just flying over Porthcawl to check my route when Rudolf, was frightened by a large wave hitting the breakwater, that led him and the other reindeer into a very sharp turn. Unfortunately I wasn't wearing my seat belt and I was thrown out of the sleigh, so children always remember to fasten your seatbelts when you travel too'.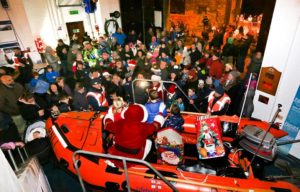 Lifeboat Deputy Launch Authority, Aileen Jones MBE, said, 'People don't normally associate our lifeboats being launched to rescue Santa. He was extremely lucky that the crew found him quickly before he got cold. Once back in the lifeboat station we gave him a warm drink and some mince pies we had ready for Christmas. Santa was so grateful following his rescue he decided to board our smaller lifeboat 'Jean Ryall' and have photographs with the children and give them all a small gift. Later that evening one of our volunteer crew saw Rudolf lead the reindeer and land on the slipway where Santa was able to take off again and continue to check his route ready for his busiest night of the year'.
Support Porthcawl RNLI charity and the volunteer crew this Christmas by texting: NOEL70 (followed by amount eg. £2, £5, £10) to 70070
News release by Ian Stroud, Lifeboat Press Officer
Watch video of the incident: