RNLI volunteers at the 30 lifeboat stations in Wales will be on standby this Christmas to drop everything to rescue anyone in trouble at sea. This has only been possible thanks to the generosity of the Welsh public who have made 2017 a record-breaking year for the charity.
Fundraising support is set to continue into 2018, and the RNLI is working closely with Visit Wales to reach new audiences through their Year of the Sea campaign.
Jen Abell, RNLI Community Fundraising Manager for south Wales says:
'It has been a busy year across the Welsh coast and we're incredibly grateful for the support of our volunteers and communities in 2017. We look forward to 2018 and to working with Visit Wales on their Year of the Sea campaign, with the support of our lifesaving volunteers.'
As thousands of brave souls gear up to take part in icy dips, many in aid of the RNLI, the charity is offering advice to ensure people enjoy this Christmas tradition safely.
For thousands up and down the coast, a festive dip in the sea is part of a Christmas tradition. RNLI lifeboat stations, community groups and charities have organised dips on Christmas Eve, Christmas Day, Boxing Day or New Year's Day from their local beaches.
Matt Crofts, RNLI Lifesaving Delivery Manager said:
'Many brave swimmers are planning to take the plunge with their families and friends over the holidays. As the charity that saves lives at sea, we are here to make people aware of what do to if they or their fellow swimmers get into trouble. Of course we want people to enjoy the water, but also remember it is winter when the sea is at its coldest! Before going in, we urge people to remember the risks of cold water shock and what to do if it happens to them. The simple act of floating could save your life.'
If you run straight into cold water you are more likely to suffer from cold water shock. The best way to avoid this is to wear a wetsuit. If this isn't possible, walk into the sea slowly and stay shallow this will allow your body time to acclimatise gradually.
Cold water shock is a physiological response, which causes uncontrollable gasping. This increases the risk of you swallowing water and puts a strain on your heart- in extreme cases it can cause cardiac arrest. If you feel you this happening to you, fight your instinct to thrash around and swim hard, instead just lie back and float. The initial shock will pass within 60–90 seconds, and when you have regained control of your breathing, you can then try swimming to safety or calling for help. This skill will give you a far better chance of staying alive.
If you see someone else in trouble in the water, fight the instinct to go in yourself. Call 999 or 112 and ask for the coastguard.
The RNLI's national drowning prevention campaign, Respect the Water, aims to raise awareness of key hazards like cold water shock, and lifesaving skills like floating, to support the charity's drive to halve the number of accidental coastal deaths by 2024. Find out more about how to float and cold water shock by visiting www.RespectTheWater.com
Matt added: 'There are many local dips taking place at the coast over Christmas. We encourage those who plan on taking part to join a scheduled event, as they will be in good company with others swimmers, as well as safety staff.'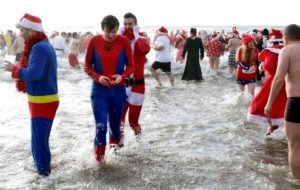 In South Wales, Porthcawl RNLI will be supporting the Christmas Morning Swim, as they have for the past 52 years. The event has raised a considerable amount of money for charitable causes including the RNLI over the past five decades. Swimmers enter the sea at 11:45am and volunteer crew will be on hand to support the event which attracts around 1,000 swimmers.
Full details of swims happening across Wales can be found on Visit Wales' website here: http://www.visitwales.com/holidays-breaks/winter/christmas/festive-swims