The weekend proved a busy time for Porthcawl RNLI Lifeboat volunteers. Two shouts on Saturday, first to a broken down vessel, then later to two persons and a dog cut off by the incoming tide. Sunday was to wind surfers in difficulties.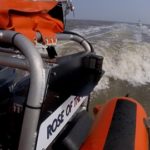 The towns RNLI crews were first paged by HM Coastguard Agency at 13:25 on Saturday to reports of a broken down fishing boat off Stout Bay near Llantwit Major. The Atlantic 85, Rose of the Shires was launched and located the casualty. Lifeboat crewman James Kinsella was transferred aboard to assist in securing a tow line and whilst the casualty was under tow back to Newton Bay, James used his day job experience and managed to get the engine running again. The tow was then released and the lifeboat escorted the vessel back to Newton.
With the lifeboat refuelled and rehoused crew were again paged at 17:00 to a report of two persons and a dog cut off below the high cliffs west of Nash Point. Both Porthcawl's lifeboats were launched and headed east towards the area where the casualties had been reported trapped by the incoming tide. Working with Llantwit Coastguard unit the lifeboat crews located the casualties and two crew members were put ashore to assess the situation. Several attempts were made to take the smaller D class Jean Ryall into the rocky shore but with a dumping swell breaking right on the shore it proved too dangerous for Helmsman Chris Page to risk his lifeboat and crew. With Barry Coastguard Unit joining the rescue bid it was decided to attempt a cliff rescue but following a request from Porthcawl lifeboats the SAR helicopter was tasked to winch the two casualties and their dog to safety. The helicopter then stood by whilst the two crew swam out through the surf and back on board the lifeboats. All units were stood down at 18:50 and returned to base.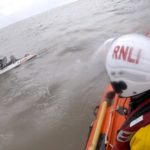 Following Sunday morning training RNLI crews were paged at 14:17 to reports of windsurfers in difficulty off Newton Point. Arriving on scene the D class lifeboat established one windsurfer had made it ashore whilst his colleague required assistance as his board mast had snapped. Safely on board the casualty was taken ashore at Newton where he was met by Porthcawl Coastguard Unit.
Porthcawl's Lifeboat Operations Manager, Philip Missen said, 'Our crews have proved their ability to assist in all types of situations over this busy weekend. It's also shown their capability to work with other rescue assets to enable the safe rescue of casualties who find themselves in danger around our shores. With tides getting larger all this week I would ask shore walkers especially to make sure of tide times before they start any walks particularly east of our station along the cliff bases between Southerndown and Llantwit Major. We display tide times and heights 24/7 on our charities website, https://www.porthcawl-lifeboat.co.uk/live-streaming/
It is also possible to view current sea conditions at Porthcawl Breakwater which can give an indication of the sea state along our coastline'.