Porthcawl's newest RNLI volunteer helm, Sam Williams took command of the Atlantic 85 lifeboat just 20 hours after his helm passout, rescuing a yacht with two people onboard.
Porthcawl RNLI's Atlantic 85 lifeboat Rose Of The Shires was launched to assist a sailing yacht which had suffered engine difficulties and was struggling against the tidal conditions to the South of Porthcawl. The yacht was taken under tow and brought back to Porthcawl Marina to allow the skipper to undertake repairs.
Sam, 25, is the station's youngest helm, following in his father's footsteps, who was a senior helm at Porthcawl. Just 20 hours prior to being paged Sam was out undertaking a helm assessment, being tested in his ability to command the lifeboat in a range of different simulated scenario's.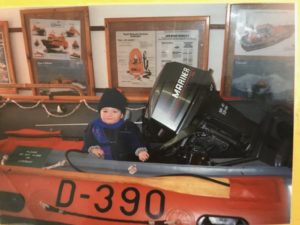 Sam said, 'I grew up around the lifeboat station and couldn't wait for the time I was old enough to join the crew, I was obsessed with lifeboats as a child. We used to visit Ilfracombe regularly when I was younger and if I heard the maroons set off to call the crew to launch the lifeboat I couldn't contain my excitement! My dad even built me my own lifeboat station at home to play in.'
Porthcawl Lifeboat Operations Manager, Phil Missen MBE said, 'I have known Sam all his life and over the years I've watched him grow up into a respectable young man. I'm delighted to see him fulfil his lifelong ambition and pass out as a helm. I was good friends with Sam's father Steve, who was a senior helm at Porthcawl. We were both in the sea cadets together before joining the Porthcawl RNLI crew. Steve left to join the Royal Navy as an Able Seaman and went to the Falklands twice during the conflict. In 1984 Steve returned and rejoined the crew.'
'Both Steve's boys have followed after their dad with Sam's younger brother, Joe a current member of the crew too.'
'Steve was part of a group that influenced the design of the Atlantic 85 lifeboat which Sam has now become a helm of at Porthcawl. Sadly, Steve passed away in 2012 after a long illness, but I know Steve would have been incredibly proud of Sam and his achievement' Phil said.
Sam, who works commercially as a relief coxswain on a pilot boat regards his background with the RNLI as being the footing which got him his first job as a deckhand.
Ends
Notes to editors:
Sam features in episode 5 (airing this Tuesday 11/09/18) of the current series of Saving Lives At Sea. The 10 part series is airing on BBC Two at 8pm on Tuesday evenings and is available to catch up on BBC iplayer.
Video and images available to download from RNLI website: https://rnli.org/news-and-media/2018/september/08/porthcawls-newest-helm-called-into-action
Footage from the rescue of the yacht: