The latest RNLI rescue figures for 2018 reveal the busiest station in Wales was Porthcawl with 112 launches, the volunteer crew also rescued more people than any other station across Wales – 144 people in total. Eight lives were saved by Porthcawl lifeboats thanks to the crew coming to their aid.
Although last summer's weather was exceptionally good this was not the main reason for the large number of launches as statisics showed there was no particular peak of 'shouts' during that period. The crews were busy throughout the year responding to requests to launch all times of day and night and in a wide variety of weather and sea conditions.
Lifeboat Operations Manager at Porthcawl, Phil Missen MBE, said, 'Our volunteer crew answered the call to launch our lifeboats throughout the year and it was a huge commitment by them and their families. However, for us the main thing was that of the eight lives we saved the tragedy that befalls families and friends at the loss of one of their loved ones was avoided. We also assisted 144 people that were in danger before their situation became much more serious'.
There were 1,100 lifeboat launches at Wales' 30 lifeboat stations in 2018, with 1,216 people aided between Flint and Penarth. The RNLI is now calling on the people of Wales to support RNLI lifeboat crews across the country as Mayday, the charity's national annual fundraising campaign, is launched.
Launching on Wednesday 1 May and running for the whole of the month, the RNLI's Mayday campaign is calling on people to 'do their bit, fund our kit' with the lifesaving charity hoping to raise £700,000 to fund the crucial kit volunteer crews rely on, like lifejackets, helmets and the RNLI's iconic yellow wellies.
After a busy year for our Welsh volunteers, the RNLI is hopeful the public will get behind the campaign and show their support. There are all sorts of ways to raise money for Mayday. From wearing wellies to work or doing a sponsored welly walk, to holding a bake sale or doing a sponsored cycle ride. Teachers and community groups are invited to 'go yellow' for Mayday – by either wearing something yellow or lighting up an iconic building. Anyone can register for a free fundraising pack by visiting RNLI.org/Mayday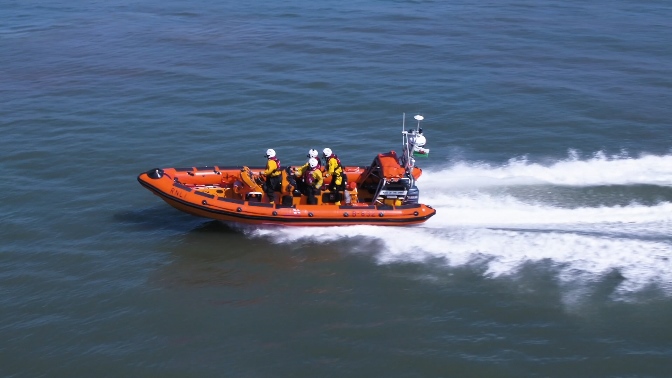 .