All volunteers at Porthcawl RNLI lifeboat station were saddened to hear that John Williams MBE had sadly died earlier this week.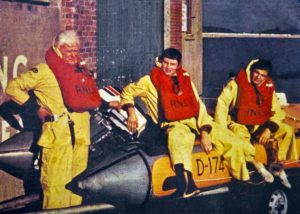 John was an original crew member when the RNLI re-established a lifeboat at Porthcawl in 1965. He went on to serve the station as Honorary Secretary, now known as Lifeboat Operations Manager, from 1986 until 1998. Following his retirement from that role he continued volunteering at the station for many years in various capacities one of which was a representative on the station committee.
John was married to Irene and as a couple they both supported the RNLI charity for many years. Irene was awarded the RNLI Gold Badge for her dedicated service in 2015. John was awarded a MBE for his service to the RNLI in 1997. One of his major achievements came to fruition in 1996 when a new lifeboat station was built to house a new and larger lifeboat at Porthcawl
Philip Missen MBE, Porthcawl Lifeboat Operations Manager said, 'Our thoughts today go out to Irene and the family. John certainly was a RNLI stalwart and would still attend the lifeboat station most Sunday mornings up until just a couple of years ago when illness prevented his visits. Well into his late seventies John would cycle down from Nottage regularly and when that got a bit tough he bought a battery powered bicycle. There are not many people who have served their community for so many years.
John's funeral will be held at St Johns Church Newton at 2:30 Tues 19 Dec followed at 3:30 by cremation in Margam Crematorium. Following the committal all are welcome at the lifeboat station in Porthcawl for refreshments.
News release by: Ian Stroud, Lifeboat Press Officer